Because I experienced dizziness after ingesting a bolus (2 scoops) of whey protein, I wanted to investigate: whether others also have this reaction; whether this is a common reaction; and why this reaction might occur.
My experience: Dizziness after whey protein…
Today I had 2 scoops of "Salted Caramel" whey protein isolate from MyProtein which provided: ~40 grams protein and 180 calories.
Ingredients: Whey protein isolate; natural & artificial flavoring; modified food starch; salt; caramel color; sucralose; acesulfame potassium.
The product contains: 200 mg sodium; 130 mg potassium; 2 grams carbohydrate; 3.5 grams glutamine; and 4.5 grams BCAA.
This protein has good taste and dissolves efficiently in water without the need for excessive mixing.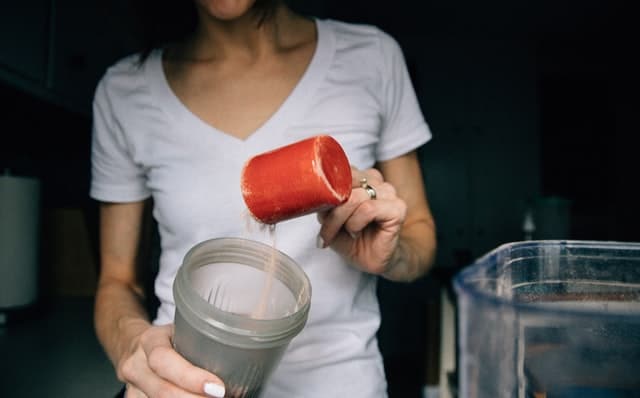 About 15-45 minutes after ingesting whey protein for lunch after ¼ cup of almonds and 4 oz. carrots (total lunch calories = 397) – I experienced dizziness, lightheadedness, and a facial flushing/pressure sensation.
I wouldn't say that the dizziness is extreme – it's probably about a 3-4/10 – I don't feel like I'm going to fall over while standing up or while walking.
This reaction seems to occur whenever I have a large dose of whey protein and I'm not exactly sure why.
Some additional details: no exercise prior to whey ingestion; no history of cow milk allergy; no reaction from other foods or supplements; less/insignificant reaction from lower amounts of whey protein; adequately hydrated; not stressed; no other substances explain the reaction.
Why do I think I experienced dizziness after whey protein?
No idea (*shrug*). Below are some possibilities.
Whey protein sensitivity: Potentially a non-IgE-mediated allergy – as I have no signs of a conventional hypersensitivity reaction. (Could be dose-dependent in that this might only occur following high doses.)
Whey protein intolerance: Perhaps my body has a difficult time efficiently digesting whey protein. Since I did use whey isolate – it should theoretically be relatively easy to digest. Still, there could be a dose-dependent intolerance.
Dairy sensitivity: Whey protein is a form of dairy – and it's possible that I have a cow milk allergy when dairy protein exceeds a particular threshold within a specific timespan (e.g. 40 grams in 1 hour, etc.).
Dairy intolerance: Whey protein is a form of dairy – and it's possible that I'm intolerant to dairy products in general when dairy protein exceeds a particular threshold within a specific timespan (e.g. 40 grams in 1 hour, etc.).
Reaction to other ingredients: It's possible that I might be reacting to additives within this product such as salt, modified food starch, glutamine, BCAAs, natural flavoring, artificial flavoring, sucralose, acesulfame potassium, etc. The BCAAs and glutamine seem like the most likely potential causes of non-whey ingredients.
Protein bolus: Perhaps the sheer amount of protein (40 grams) ingested within a short duration (e.g. 40 grams in under 5 minutes) stressed my GI system and caused dizziness along with facial tingling.
Contaminants: Since I didn't run my protein through a mass spectrometer, it's impossible to know whether listed ingredients and respective amounts are accurate – and whether the product I consumed was devoid of contaminants. That said, MyProtein consistently tested well by LabDoor for quality ingredients and lack of contaminants.
Physiological changes: It may be that a bolus of whey protein (40 grams) administered within a short window (e.g. 5 minutes): (1) alters blood glucose/insulin; (2) shifts blood flow to the stomach from the brain (causing lightheadedness/dizziness); (3) postprandial hypotension; etc.
It's also possible that the dizziness I experienced following whey protein has been nothing more than a consistent coincidence.
However, in my experience, I don't think what I'm experiencing is a coincidence – as I've had this same effect from: (1) other types of whey (e.g. concentrate); (2) other whey protein products (not just MyProtein); (3) other whey protein formats (e.g. whey bars).
At this time, I'm somewhat unsure as to whether I've experienced this reaction from other forms of protein including: non-whey dairy protein; vegan protein (e.g. soy, wheat, etc.); and non-dairy animal protein (e.g. chicken, beef, etc.).
Why does whey protein cause dizziness? (My hypotheses)
The reasons for dizziness after ingestion of whey protein are likely subject to significant inter-individual variation.
(This is assuming the whey is legitimately culpable for the dizziness – and not misattributed as the cause.)
Most common reasons

Postprandial physiological changes: Physiological changes may occur in response to ingestion of whey protein and/or a protein bolus (large dose of protein in short duration).
Blood glucose changes: Blood glucose concentrations might spike after whey protein – causing some individuals to experience dizziness as a result of hyperglycemia.
Insulin changes: Insulin fluctuations in response to blood glucose increases could cause some lightheadedness and/or dizziness.
Postprandial hyperemia: Blood flow to the GI tract increases gradually and markedly after a meal – and moreso after a big meal than a small one. Increases in blood flow reach their maximum ~20-40 minutes post-meal and this lasts for 1.5-2 hours. (R) https://pubmed.ncbi.nlm.nih.gov/10095388/
Postprandial hypotension: Low blood pressure after eating – can cause dizziness and possibly fainting. Those with this condition likely experience it following consumption of any food – not just whey protein, though it's possible that a subset of people experience hypotension following a protein bolus.
Digestive processes: A large bolus of whey protein may tax the digestive system such as to cause some adverse reactions like dizziness, lightheadedness, and/or nausea.
Whey protein intolerance: Certain individuals may have trouble digesting whey protein such that they experience: stomach pain, bloating, nausea, intestinal cramps, gas, diarrhea, etc. In some cases, these reactions may be accompanied by, or cause, dizziness.
Whey protein sensitivity: In this case, dizziness after whey protein would emerge hours, days, or weeks after consistent administration as a result of a non-IgE-mediated immune reaction. (Dizziness would probably not be the only reaction – but it could be.)
Less common reasons

Whey protein allergy: Although adult-onset whey protein allergy can occur – it's extremely rare. Whey protein allergy may cause a combination of dizziness, hypotension, hives, swelling, itchiness, vomiting, nausea, nasal congestion, sneezing, etc. Individuals with cow milk allergy (CMA) and/or dairy allergy should avoid whey protein.
Gastrointestinal conditions: Individuals with preexisting gastrointestinal conditions (e.g. eosinophilic esophagitis, GERD/LPR, motility disorders, hiatal hernia, etc.) may be at increased risk of experiencing dizziness following ingestion of whey protein – particularly after large servings.  Why? Whey protein might be a unique trigger food for a subset of persons with GI conditions. That said, those with legitimate GI disorders will probably experience this reaction to many foods in addition to whey.
Considerations…
Dose-dependent effect: Reactions to whey protein may be dose-dependent in that certain doses trigger no reaction, other doses trigger negligible or mild reactions, and doses above a certain threshold trigger pronounced reactions (i.e. strong dizziness).
Other ingredients: Some people may be reacting to other ingredients within a specific whey product – misattributing the reaction to whey.
Unrelated to whey: Other variables could be causing the dizziness completely unrelated to a specific whey protein product.
Reasons for dizziness other than whey protein…
Workouts: Most people take whey protein before/after workouts. It's possible that the workout itself is the cause of dizziness rather than the whey protein. If whey was ingested before an intense workout – this could cause GI distress and subsequent dizziness.
Diet specifics: Macronutrient composition; hypocaloric vs. eucaloric vs. hypercaloric; meal timing; etc. – may all explain dizziness rather than the whey. For example: Individuals on very low calorie diets may end up dizzy due to hypotension.
Total protein amount: It may be that the total amount of protein ingested (e.g. 20-40 grams) over a short duration of time (e.g. 5 minutes) is causing dizziness by taxing the digestive system harder than usual. In other words – it might not be the "whey" itself but rather the protein amount consumed in a brief window.
Hydration status: Overhydration and/or dehydration can cause dizziness. Dehydration may go hand-in-hand with an intense workout (e.g. high-intensity interval training).
Meal sizes: Consuming large meals can shift blood flow away from the brain towards the gut to aid in digestion – and this may cause transient postprandial dizziness.
Other calories ingested (proximal to whey): Ingestion of whey and calories from other sources may cause GI distress and subsequent dizziness. Perhaps the total number of calories consumed proximal to whey explains the dizziness – or the specific foods eaten in close proximity to whey ingestion.
Allergic to other foods: It's possible that some individuals are allergic to foods in their diet other than whey – such that they experience dizziness and misattribute the dizziness to whey protein.
Food sensitivities: It's possible that some individuals are sensitive to foods in their diet other than whey – such that they experience dizziness and misattribute the dizziness to whey protein.
Medical conditions: Certain medical conditions may cause dizziness after the ingestion of food/calories (e.g. functional GI disorders).
Substance use: Pharmaceutical medications, dietary supplements over-the-counter drugs, illicit drugs – may cause dizziness and/or cause a person to react adversely to whey protein (such that it may cause greater GI distress).
Nutritional status: Concentrations of vitamins/minerals within the body may be: excessive, adequate, or insufficient. Nutrient deficits could cause dizziness – and excessive amounts of certain nutrients may also cause dizziness.
Allergy or sensitivity to additives (other ingredients): Most whey protein products contain ingredients other than whey protein. It's possible to have an allergy or sensitivity to specific non-whey ingredients (e.g. artificial sweeteners) at their respective doses – such that dizziness could occur.
Contaminants: Certain whey protein products may contain contaminants that are toxic to the body. If the dosage of these toxins is sufficient, a person may experience dizziness – among other reactions.
Note: There are likely other reasons that a person might experience dizziness other than those listed above.
Anecdotes: Whey Protein & Dizziness
I searched Google for anecdotes of individuals reporting dizziness after ingestion of whey protein – and found many accounts of this phenomenon.
Anecdote 1: I have a whey protein shake with 25 grams of protein each morning. Today I had 50 grams of protein in a store-bought drink (Pure Pro50) after a tough workout. About 2 hours later I started to feel super dizzy and got sent home from work. I suspect that it was the whey protein shake that caused it. (Confounds: Intense workout, possible dehydration, possible insufficient calories, other ingredients in Pure Pro50, etc.).
My thoughts? Unlikely the whey protein – but possibly a dose-dependent reaction.
Anecdote 2: Started feeling lightheaded about a week ago – around the same time that I started a new protein shake. Slender World Protein shake along with a multivitamin, fat loss capsule, and low calorie diet. (Confounds: Fat loss capsule, caffeine in protein powder, low calorie diet, possible dehydration).
My thoughts? Likely the combination of fat loss capsule, low calorie diet, caffeine in protein powder, and possible dehydration (individual wasn't sure if drinking enough water).
Anecdote 3: Whenever I drink whey protein in the morning I feel dizziness, tiredness, and sleepy.
My thoughts? Individual is 6'1 at 141 lbs. – which is likely underweight. Dizziness is likely from being underweight, insufficient caloric intake, and/or corresponding nutrient deficiencies.
Anecdote 4: I decided to up my protein intake because it was a bit low so started drinking whey protein shakes. Since I started consuming the shakes I began to feel dizzy and shaky for about 1 hour after. Individual admits to just getting over a cold and dieting.
My thoughts? Could be a reaction to the whey protein – but could also be due to cutting calories for fat loss.
Anecdote 5: I've been using MyProtein whey for the past 4 months (with creatine) and recently started drinking the shake during the day instead of post-workout. This has caused lightheadedness and brain fog – in the hour after I drink it.
My thoughts? Could be the whey, but also could be blood sugar/levels meal timing (admitted by individual).
Anecdote 6: I've been drinking whey protein shakes for the past few months and trying a variety of brands because have been experiencing lightheaded after each shake. Am using the recommended serving size with the appropriate amount of liquid. Haven't changed my diet in any other way. The amount of protein is ~25 grams in my current shake – but the reaction occurs with all shakes.
My thoughts? Likely a sensitivity reaction to whey given that individual tried a variety of different whey protein products.
Anecdote 7: Experiencing lightheadedness and nausea after drinking my ON: Gold Standard whey protein shake with creatine monohydrate. The reaction occurs regardless of the time of day taken and/or whether ingested on a full or empty stomach.
Anecdote 8: Have been drinking MusclePharm's Combat Protein Powder and feel weird after just one serving. I feel a bit woozy, not drunk, but mind gets dizzy and I feel a little fatigued. I just add water to the powder – nothing else.
Anecdote 9: When I take a double scoop of whey protein on an empty stomach I feel dizzy and nauseated for about 30 minutes after. It eventually goes away. It's not extreme but occurs frequently. (Individual also noted that he/she is on "keto.")
Anecdote 10: Certain brands of whey protein give me full-blown dizziness and nausea.
Have you considered that dizziness from whey could be just a correlation (rather than causation)?
Just because a person experiences dizziness after consuming whey protein does NOT mean that the whey protein was the underlying cause of the dizziness.
It's possible that the dizziness was caused by: (1) ingestion of another substance (medication, supplement, drug, etc.); (2) withdrawal from a substance; (3) lack of sleep and/or psychological stress; (4) physical exertion (e.g. workouts); (5) dehydration; (6) medical condition(s); (7) normal fluctuations in physiology; (8) allergies to other foods; (9) overeating/overdrinking; etc.
It's also important to mention that the specific whey protein supplement you're using might contain ingredients – distinct from the whey protein – that are provoking a dizziness reaction (particularly if any psychoactive compounds are present like caffeine).
How to determine whether whey protein is the cause of your dizziness…
Use whey hydrolysate or isolate (pure without additives): Consuming pure whey hydrolysate or whey isolate without any additives should help you determine whether the whey is truly culpable for your dizziness. Whey concentrate might cause more issues due to the fact that it digests slower and contains more lactose (which might be an issue for some).
Experiment with different dosages of whey: Try 1/2 scoop instead of 1; try 1 scoop instead of 2. It could be that the reaction you're having is dose-dependent. Some people may be able to tolerate more whey in a single serving – or per day than others. (You could try having 1 scoop in the morning and 1 scoop in the evening to see if spacing out doses mitigates the dizzy effect.)
Compare whey protein on empty stomach vs. with food: Some individuals may find it easier to tolerate whey protein on an empty stomach – whereas others may find it more tolerable when ingested after eating a little bit of food.
Evaluate different times of whey ingestion: Try taking whey protein at different times of day than usual – and/or at different times relative to your workout (e.g. hours before or after workout) to see whether it makes a difference.
Test whey protein on non-exercise days: This will help rule out the effect of exercise/workouts on dizziness – some people feel dizzy after workouts and then drink whey (and mistakenly attribute this dizziness to whey). If you don't feel dizzy after drinking whey on non-workout days – it's probably not the whey.
Stop other supplements & unnecessary substances: This should be done to ensure that another substance you're using isn't modifying your reaction to whey (e.g. causing digestive issues and subsequent dizziness) and/or to ensure that another substance you're using isn't causing dizziness that you're misattributing to whey.
Mix the whey protein powder with water: Mixing whey protein with water instead of other beverages will help you rule out the effect of the other beverages as a cause of dizziness. (Some people mix whey protein with cow milk, almond milk, soy milk, coconut milk, sports drinks, juices, etc. – and these could be causing the dizziness).
What if nothing helps the dizziness from whey protein?
If nothing you do helps prevent or mitigate the dizziness from whey protein – and you're highly confident that whey protein is the cause, it's probably a signal that your body isn't handling whey protein well and that you should try alternative protein sources.
Why wouldn't your body be handling whey protein well? Likely either: (1) whey protein intolerance; (2) whey protein sensitivity (i.e. non-IgE-mediated allergy); or (3) allergy/hypersensitivity.
Allergy testing: You could consult an allergist/immunologist to rule out a hypersensitivity reaction to whey protein. This may be an expensive route to take, but if you have the extra money and want to know whether you have a true whey allergy – this is worth considering.
Try alternative protein sources: Just because you feel dizzy after whey protein does not mean there aren't healthy alternative protein sources to consider. You can consume protein via real foods (e.g. eggs, fish, meats, beans, tofu, etc.). If you need a protein powder – you can use things like soy, pea, rice, hemp, etc. – all of which will get the job done.
Have you experienced dizziness after consuming whey protein?
What specific whey protein product did you use?
Do you think the dizziness could be from any ingredients in the whey product other than whey protein?
What specific type of whey protein did you ingest? (e.g. concentrate, hydrolysate, isolate, etc.)
Do you notice a dose-dependent effect? (e.g. 2 scoops = more dizziness than 1 scoop?)
Did you ingest the whey on an empty stomach or after meals?
How soon after ingesting whey protein do you experience dizziness?
Does dizziness always occur after drinking whey protein?
Have you tested whey from other sources/manufacturers to ensure that it's not a product-specific reaction?
Have you tried different types of whey to rule out type-specific reactions? (e.g. whey hydrolysate, whey isolate, whey concentrate, etc.)