Gut Milk is a fictional beverage that became known on Season 1, Episode 2 of the Hulu original TV show "Only Murders In The Building" (OMITB).
While investigating and attempting to solve the murder of Tim Kono for their true crime podcast called "Only Murders in the Building" – Charles Haden-Savage (Steve Martin) and Oliver Putnam (Martin Short) paid a visit to the building manager Ursula (Vanessa Aspillaga).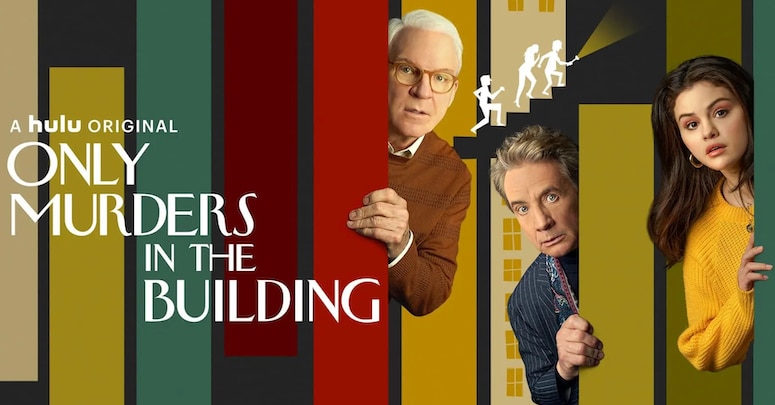 Putnam figured that Ursula might have more information about who was in the Arconia (their New York City apartment complex) while the murder of Tim Kono took place – and took the elevator to the basement to inquire about information.
Pre Gut Milk: Dialogue between Putnam & Haden-Savage (Elevator)
Below is the dialogue between Oliver Putnam & Charles Haden-Savage on the elevator, heading down to see Ursula in the basement – where the recordkeeping is done.
Putnam: Remember, Ursula always had a side hustle she's working. So try not to sign up for any subscription boxes, timeshares, or complementary mammograms – they're incredibly difficult to cancel.
Haden-Savage: I thought her name was Aurora.
Putnam: How do you not know anyone? So you put Aurora on her envelope when you tip at Christmas?
Haden-Savage: I don't tip.
Putnam: What?
Haden-Savage: I think it's elitist. I send out autographed photos instead.
Putnam: Mm. Okay. You know what, I think you should stay upstairs.
Haden-Savage: Why?
Putnam: Because I'm starting to think that people like you less than Tim Kono.
Gut Milk scene: Exchange between Putnam, Haden-Savage, Ursula (Basement)
The duo of Putnam and Haden-Savage reach the basement and Haden-Savage appears to consider heading back upstairs – while letting Putnam handle Ursula alone.
At the last second (as the elevator doors are closing) Haden-Savage sticks out his arms, keeps the elevator doors open – and eventually joins Putnam's conversation with Ursula.
Putnam: Ursula, my beloved. Even from here you smell like a field of lavender and French fries.
Ursula: [Laughs] My two favorite things. What brings your skinny ass down here?
Putnam: Well, I just you know, I didn't see you at the memorial for Tim Kono and I just thought I'd check in. It was such a tragedy.
Ursula: Is it? Really? Dude didn't wanna be at the party anymore so he left. Do you know how many complaints I got about him? (*Takes out a stack of complaint files and places them in front of Putnam*)
Putnam: Gee, I'd love to take a peek at those.
Ursula: (*Seems like she's about to let Putnam take a look at the complaint files but Haden-Savage pops in unexpectedly and she immediately removes the files from in front of Putnam and moves them to the back of the recordkeeping room*)
Haden-Savage: Ursula, it's me, Charles Haden-Savage from 14.
Ursula: Is he with you?
Putnam: No. No, no.
Haden-Savage: I see you have my pho- (photo)
Ursula: Yeah it's a real favorite. Can't you tell? (Hilarious devil horns and face drawn over his autographed picture)
Haden-Savage: Look, the reason I don't tip is out of respect for you.
Ursula: Please, don't respect me so much, okay?
Putnam: Ursula, please, I would love to look at those complaints about Tim Kono. Can't we work something out here?
Gut Milk enters the frame (*gross sloshing noises*) as Ursula grabs a box from the floor.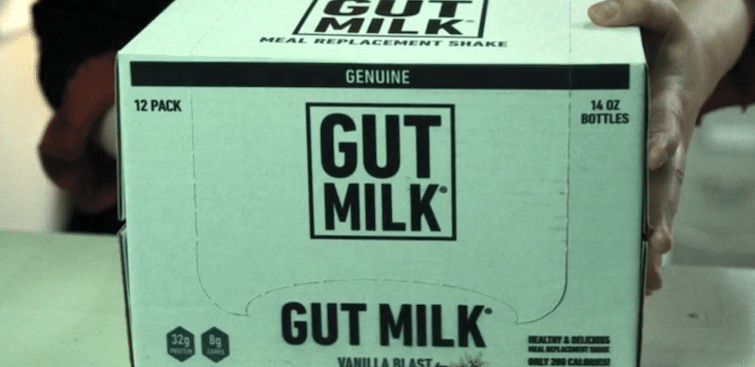 Ursula: Well, if you really want them (the files)… (*hauls "Gut Milk" Over to countertop and plops down in front of Putnam & Haden-Savage*)
Haden-Savage: Gut Milk?
Ursula: It's a beverage and a business – first case is $250. Buy two and I'll throw in the file. Buy three – and I'll fill you in on the stuff that was too juicy to write down.
Haden-Savage: That seems steep.
Ursula: Up to you. But after tomorrow, this (the files) and everything else about that guy, goes away forever.
Putnam: Why is that?
Haden-Savage: What's tomorrow?
(*They're cleaning out Tim Kono's apartment tomorrow*)
Assuming you watched, you'd know based on future scenes that Putnam & Haden-Savage ended up with the files and thus copious amounts of "Gut Milk."
In summary, Gut Milk was purchased by Charles Haden-Savage and Oliver Putnam as part of a quid pro quo agreement with Ursula – the files in exchange for them purchasing Gut Milk.
Gut Milk (Product details)
Based on the original scene in which "Gut Milk" was set in front of Putnam and Haden-Savage by Ursula – I was able to detect the following product details.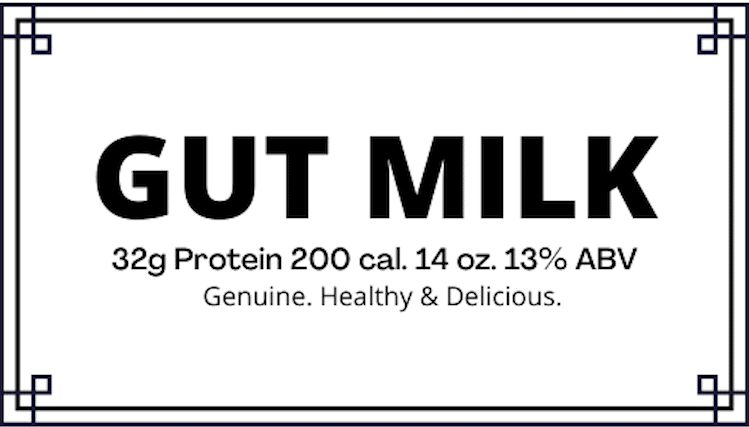 Exact nutritional information and a full list of ingredients are not available.
Flavor: Vanilla Blast
"Genuine"
Meal replacement shake
1 Box: 12 pack
14 oz bottles
32 grams protein
8 grams carbs
13% alcohol
200 calories
Gut Milk quotes…
"I think it's giving me abs."
"It's a beverage and a business."
"Quick – give the guy Gut Milk – it absorbs toxins!"
Note: If you have any additional "Gut Milk" references from the show – mention them in the comments so I can get them added.
Why the product "Gut Milk"? (Fan hypotheses)
Many Redditors have different opinions and hypotheses of reason(s) a product called "Gut Milk" appeared in this show.
MLM parody: Many suggest that the show was making fun of multi-level marketing (MLM) products by having Ursula sell Gut Milk as her "side hustle" ($250 per box).
It would make sense that something like this could be marketed to optimize gut health, etc.
Some believe the writers were making fun of Herbalife and Isagenix specifically because they sell scammy shakes claiming a variety of health benefit (including improved gut health).
"Got Milk?" marketing campaign (?): Some thought that the writers were making fun of the 1990s marketing campaign using the slogan "Got Milk?" in effort to get more people/kids drinking milk. (Apparently the writers were asked about this and didn't even realize the similarity – so it was not intentional.)
IASIP theft (?): Bears similarities to "Fight Milk" from It's Always Sunny in Philadelphia.
Homage to I Love Lucy (?): Some believe that "Gut Milk" was a tip of the hat to Vitameatavegamin, a product that appeared in "I Love Lucy" which also contained alcohol.
Do people think Gut Milk would taste good? (Fan speculation)
I don't think a majority of speculators on Gut Milk's taste took into account the amount of protein (22 grams) per bottle and the fact that there's only 200 calories per bottle.
Many are suspecting that Gut Milk is analogous to alcoholic beverages, but my thought is that it'd be more like a vanilla whey isolate protein shake with a bit of alcohol added (13%).
Reaction #1: Sounds really gross. I don't know how a milk alcohol would be appealing to me especially since I'm feeling kind of sick after drinking a Chai latte.
Reaction #2: If RumChata is wrong I don't want to be right. And I have legit stomach issues, so I will probably be drinking some actual Gut Milk to deal with all the dips that will be entering my body.
Reaction #3: In my mind, Gut Milk tastses like heavily spiked eggnog. Emphasis on "heavily."
Reaction #4: My father left me a pair of books he owned called "The Gentleman's Companion." The second volume was all old cocktails and histories. I remember they had a recipe for something called "Tiger Milk" which contained: brandy, milk, and cinnamon. I kind of picture that but with probiotics added.
Reaction #5: I think a "Mudslide" would be an appropriate substitute for Gut Milk.
Reaction #6: Gut Milk contains the same amount of alcohol as most red wines – on par with Kahlua and some other liquers.
Reaction #7: Gut Milk is such an awful name – I would never try anything with a name like that.
Will "Gut Milk" be an important clue in the murder of Tim Kono? (Reddit hypotheses)
Obviously you know the answer if you've watched the first season of Only Murders in the Building – and I'm not going to provide spoilers.
Initial thoughts from fans of the show after the appearance of "Gut Milk." Is "Gut Milk" an important clue or a red herring? Finish the season and you'll find out.
Redditor #1: I 100% think Ursula is involved with Tim's death and helping Angel.
Redditor #2: Ursula's my current guess. Not really based on any evidence, just the fact that the cast and crew were apparently surprised by who the killer is, and I think they've referenced "Gut Milk" often enough that it has to be more than just a joke.
Redditor #3: Yeah I'm going to be on team Ursula being the killer. She does have the means, motive, and opportunity.
Redditor #4: Gut Milk could be a money laundering business. Follow the Gut Milk?
Redditor #5: Gut Milk may have killed Howard's cat Evelyn.
Some fans thought that Howard's cat may have been killed in part due to consumption of "Gut Milk" (cats like milk, etc.) either directly or indirectly (via drinking Tim's blood).
Others have responded that 13% alcohol would not kill a cat – but obviously this would depend how much "Gut Milk" was ingested.
Redditor #6: They keep showing Gut Milk and specifically talked about the alcohol content of it. In the same episode as you see the toxicology report for Tim Kono. Ironic part? The name of the examiner in the report: "Gutierrez M." – "Gut" M… Coincidence?
Redditor #7: Wait, that means Tim's note about the 1/31 meeting is about Gut Milk! GM = Gut Milk!
Redditor #8: I feel like GM wasn't actually Gustavo Mora and could be something else. The examiner's name is very interesting but it's Guttierez, M. so the initials are actually MG. Nice find either way though, the mention of the alcohol in Gut Milk seemed notable and it could play in somehow.
Redditor #9: My son and I have been obsessed with Gut Milk. We think the cat definitely died from it. Was there any Gut Milk in Tim Kono's apartment?
Redditor #10: It's probably linked to Ursula who told them they needed to buy it (Gut Milk). Maybe that's what she did with Tim Kono and gave him information on potentially Angel or something else and he drank his milk and died of an overdose.
My thoughts on Gut Milk from #OMITB…
I thought Gut Milk was merely a hilariously named product for the show that may have been taking comedic jabs at:
Side hustles: Ursula's side hustle is selling "Gut Milk" and many side hustles are MLMs.
MLM (multi-level marketing) campaigns: It was not confirmed that "Gut Milk" was part of an MLM – but it seemed implied to many viewers.
Hesitancy to buy MLM products: Most people don't willingly purchase MLM-type products unless they stand to benefit in some way (e.g. via quid pro quo like Ursula had with Haden-Savage & Putnam).
Gut health: The modern obsession with optimizing "gut health" with certain beverages and supplement lines (probiotics, kombucha, kefir, etc. all have become trendy/popular but the benefits aren't necessarily supported by science).
Would I try Gut Milk?
Shouldn't even be a question… the real question is who wouldn't try "Gut Milk" after watching this series? LOL.
If "Gut Milk" were a real product, I think it would sell well and people would like it – especially with minor tweaks such as: (1) addition of "probiotics"; (2) a non-alcohol version; (3) a caffeinated version (for "energy").
I envision Gut Milk tasting like a vanilla whey isolate protein shake spiked with a bit of alcohol – which might be delicious if the "vanilla bean" flavor is well crafted.
The name is catchy, the packaging is simple and clean, etc. Future Amazon #1 best seller in beverages… LOL.
What are your thoughts on Gut Milk? Would you try it?
If you have any thoughts or comments about the product Gut Milk – feel free to share.
What are your thoughts on the product "Gut Milk"?
Do you think the writer's included this product for any specific reason(s)?
Assuming you've only made it through episode 2 (and not the entire season) – do you think "Gut Milk" is an important clue for detecting the murderer? (Why vs. why not?)
Would you try the "Gut Milk" product with exact nutrition information/specifications as is seen in Only Murders in the Building? Would you be willing to pay $250 for one box?