The NBA regular season is almost over, and as always, the race for MVP (Most Valuable Player) award is heating up in media discussions.
With only a few games left as of April 5, 2023 – the competition has narrowed down to 2 front-runners: Joel Embiid (76ers) & Nikola Jokic (Nuggets).
Giannis Antetokounmpo also had a dominant season and is probably underappreciated & overlooked as an MVP candidate for a variety of reasons: (A) he's already won 2 MVPs & (B) has a championship.
Jayson Tatum also had a strong performance for his team, but wasn't quite able to compete with Embiid, Jokic, or Giannis in the MVP race.
I'm going make my prediction for NBA MVP and also use GPT-4 to analyze variables it deems important and have it make its own prediction.
TL;DR: Both myself & GPT-4 believe…
Joel Embiid will win the 2022-2023 NBA MVP – due to a combination of performance & media sentiment.
Nikola Jokic probably deserves to win the NBA MVP for the 2022-2023 season.
Also my opinion: Giannis is the best player in the NBA as of 2022-2023… would take him over every other player if selecting based solely on talent right now.
GPT-4 NBA MVP (2022-2023) Prediction
Joel Embiid. Taking all factors into account, Joel Embiid appears to be the frontrunner for the 2023 NBA MVP award.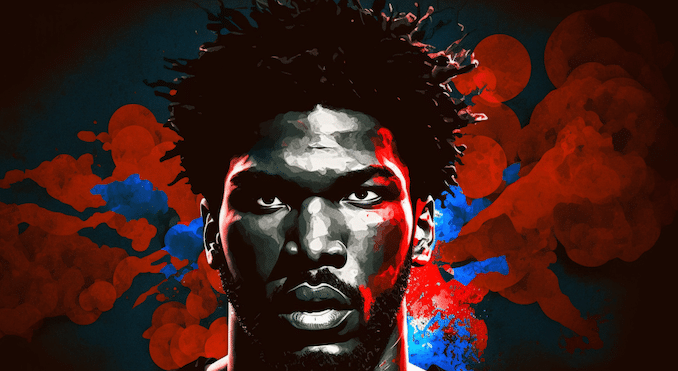 His impressive statistics, media support, and the 76ers' performance with a slightly tougher schedule make a strong case for Embiid.
However, Jokic remains a close contender, with his all-around game and high efficiency.
Giannis and Tatum, while impressive, seem to be slightly behind Embiid and Jokic in this year's MVP race.
Scoring: Embiid has a higher scoring average (33.3 PPG) than Jokic (24.8 PPG), making him one of the top scorers in the league. Voters might lean towards Embiid due to his impressive scoring ability, which can be perceived as more impactful in crucial game situations.
Defensive prowess: Embiid has a reputation as an elite defender, which could sway voters in his favor. With a defensive rating of 109.9 and averaging 1.5 blocks per game, his defensive impact could be seen as more valuable compared to Jokic, who has a defensive rating of 111.5 and averages 0.7 blocks per game.
Narrative: There is often a narrative aspect to MVP voting, and the story of Embiid's dominant season coming off an injury could appeal to voters. This narrative might make Embiid's season seem more compelling, even though Jokic's overall contribution might be more balanced.
Who does GPT-4 think deserves the 2022-2023 NBA MVP?
Nikola Jokic.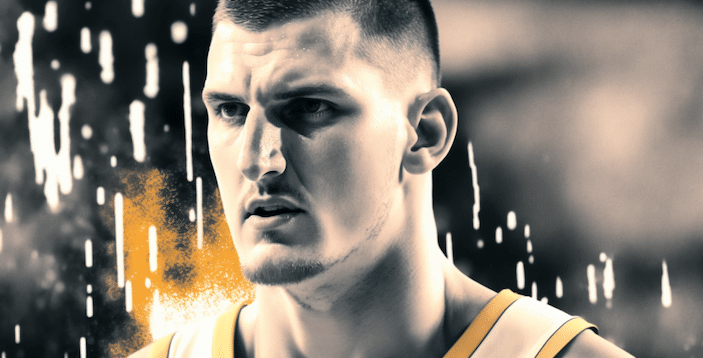 Based on the information provided, it is a close race between Joel Embiid and Nikola Jokic for the MVP award, with Giannis Antetokounmpo and Jayson Tatum as strong contenders as well.
However, GPT-4 believes (based on the data I fed it) that Nikola Jokic deserves the MVP award for the following reasons:
Statistical dominance: Jokic has been outstanding across the board with 24.8 points, 11.9 rebounds, and 9.8 assists per game. His PER (Player Efficiency Rating) is 31.8, and he has a true shooting percentage of .702, showcasing his efficiency. He also has an impressive impact estimate of 21.2 and a usage rate of 26.4%. While Embiid has a higher scoring average (33.3 PPG) and a slightly higher impact estimate (21.5), Jokic's overall contribution to his team's success is more balanced.
Team success: Both the Denver Nuggets and the Philadelphia 76ers have identical records of 52-27. Jokic has played a more significant role in his team's success, as evidenced by the Nuggets' 4-7 record without him, compared to the 76ers' 9-5 record without Embiid. This suggests that Jokic is more integral to his team's success.
Versatility: Jokic is a more versatile player with a well-rounded skillset. His assist numbers (9.8 APG) are exceptional for a center, demonstrating his ability to create opportunities for his teammates. He also has a higher offensive rating (124.3) and a comparable defensive rating (111.5) to Embiid (119.0 and 109.9, respectively). Jokic's ability to contribute in multiple ways gives him an edge in the MVP race.
Durability: Jokic has played in 68 games this season, compared to Embiid's 65. While the difference is not significant, Jokic's ability to stay healthy and contribute consistently throughout the season is a valuable asset.
Although Embiid may win the award based on his scoring, defense, and narrative – GPT-4 thinks that Jokic is slightly more deserving.
GPT-4 notes that the MVP outcome between Jokic & Embiid will be contingent upon voter preferences and how they weigh specific factors.
GPT-4 Predicting NBA MVP (Method)
To determine the most likely NBA MVP, GPT-4 considered key metrics and variables that have been historically important in determining NBA MVP voting.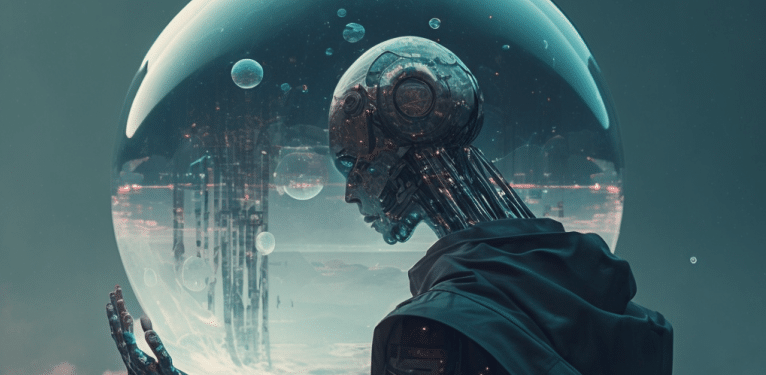 According to GPT-4, although MVP voting is subjective and influenced by narrative & team success, some of the most important factors to consider are:
Team Success: A player's team performance plays a significant role in MVP voting. Generally, MVPs come from teams with a top-seeded playoff position, so consider the team's win-loss record and overall standing in the league.
Individual Performance: Focus on the player's individual statistics, including points per game, rebounds per game, assists per game, field goal percentage, three-point percentage, and free-throw percentage. Additionally, consider advanced metrics such as Player Efficiency Rating (PER), Win Shares, Box Plus/Minus (BPM), and Value Over Replacement Player (VORP).
Impact on Team: Analyze the player's on-court impact by looking at metrics like on/off court differentials, which show how the team performs with the player on the court versus when they are off. This can help demonstrate a player's value to their team.
Defensive Performance: While offensive numbers often receive more attention, defense can be just as important in MVP voting. Consider defensive statistics like steals, blocks, and defensive rating, as well as advanced metrics like Defensive Win Shares and Defensive Box Plus/Minus.
Consistency: Consistent performance throughout the season is crucial. Examine the player's game-by-game performance and look for any prolonged slumps or streaks of dominance.
Narrative: MVP voting can be influenced by the storylines surrounding a player, such as overcoming adversity, achieving a historic milestone, or leading a team to success despite injuries or other challenges. While it's not a quantifiable metric, it's essential to consider these narratives when assessing MVP candidates.
GPT-4 stated that once I provide necessary data for the MVP candidates, it would analyze it and help predict the likely winner of the NBA MVP award for 2022-2023.
Data for GPT-4 to consider

Below are some of the datasets I fed GPT-4 so that it could make its prediction for 2022-2023 NBA MVP.
Team records
Team records without MVP candidate
NBA Advanced Stats (R)
Clutch Stats (R)
On/Off Stats (R)
RAPTOR (FiveThirtyEight) Ratings (R)
Head-To-Head Matchup: There was one game between Jokic & Embiid (Jan 28, 2023). The 76ers won and Embiid had 47 points vs. Jokic had 24 points.
NBA Straw Poll (R): Helps get a feel for where voters may be leaning.
Hollinger Stats (R)
RPM Stats (R)
DARKO (R)
Player stats (General)
Recent MVPs: Jokic won the past 2 seasons… (I think this makes it tougher to win a third season… especially since Embiid has been close).
GPT-4's Data Analysis
Based on the data provided, the 2023 NBA MVP race seems to be highly competitive, with the top contenders being Nikola Jokic, Joel Embiid, Giannis Antetokounmpo, and Jayson Tatum.
Each player has made significant contributions to their respective teams, but a comprehensive analysis of their statistics, team records, and other factors may provide a clearer picture of who deserves the MVP title.
Statistical Analysis
Scoring: Embiid leads the pack with 33.3 points per game (ppg), followed by Giannis with 31.1 ppg, and Jokic with 24.8 ppg. Winner: Embiid.
Rebounding: Jokic has the highest rebounds per game (11.9), followed by Giannis (11.8), and Embiid (10.2). Winner: Jokic.
Assists: Jokic dominates with 9.8 assists per game, followed by Giannis (5.7) and Embiid (4.2). Winner: Jokic.
Steals: Jokic leads with 1.3 steals per game, while Embiid has 1.0 and Giannis has 0.8. Winner: Jokic.
Blocks: Embiid tops the list with 1.7 blocks per game, followed by Giannis (0.8) and Jokic (0.7). Winner: Embiid.
Turnovers: Jokic has the highest assists-to-turnovers ratio (2.75), followed by Tatum (1.6), Giannis (1.5), and Embiid (1.2). Winner: Jokic.
Shooting Efficiency: Jokic has the highest effective field goal percentage (EFG%) and true shooting percentage (TS%) at 66.1% and 70.2%, respectively. Giannis has an EFG% of 57.2% and a TS% of 60.5%, while Embiid has an EFG% of 57.1% and a TS% of 65.4%. Winner: Jokic.
Team Performance: The Bucks, led by Giannis, have the best record (57-22), followed by the Nuggets (52-27, Jokic) and the 76ers (52-27, Embiid). Winner: Giannis.
Clutch Stats: Embiid has the highest clutch field goal percentage (58.0%), followed by Giannis (54.5%) and Jokic (56.3%). Winner: Embiid.
Impact: Embiid has the highest Player Impact Estimate (PIE) at 21.5, closely followed by Jokic (21.2) and Giannis (20.4). Winner: Embiid.
Jokic wins 4 categories
Rebounding
Assists
Steals
Shooting efficiency
Embiid wins 4 categories
Scoring
Blocks
Clutch stats
Impact
Although these are important statistical metrics, Jokic was objectively more valuable to his team (based on team performance without him: 4-7 vs. 76ers performance without Embiid: 9-5).
Jokic is also on a less talented team (slightly) than the 76ers, has dominated more advanced stats categories, and has a higher offensive & defensive rating for the year.
Jokic has a higher true shooting percentage (TS%), player efficiency rating (PER), value added (VA) rating, and estimated wins added (EWA) rating – than Embiid (although it's very close).
Of the Top 25 performances of the 2022-2023 season: (A) Embiid has had "4" Top 25 performances (2 in the top 10) vs. (B) Jokic has had "4" Top 25 performances (1 in the top 10)… slight edge Embiid in "big performances."
Joel Embiid
Points per game: 33.3
Rebounds per game: 10.2
Assists per game: 4.2
Blocks per game: 1.7
Steals per game: 1.0
Usage rate: 37.1%
Nikola Jokic
Points per game: 24.8
Rebounds per game: 11.9
Assists per game: 9.8
Blocks per game: 0.7
Steals per game: 1.3
Usage rate: 26.4%
Giannis Antetokounmpo
Points per game: 31.1
Rebounds per game: 11.8
Assists per game: 5.7
Blocks per game: 0.8
Steals per game: 0.8
Usage rate: 37.3%
Jayson Tatum
Points per game: 30.2
Rebounds per game: 8.8
Assists per game: 4.6
Blocks per game: 0.7
Steals per game: 1.1
Usage rate: 31.9%
Looking at the players' statistics, Embiid leads in points per game (33.3), but Jokic has the highest player efficiency rating (31.8) and true shooting percentage (70.2%).
Jokic also leads in assists per game (9.8) and has a higher assist-to-turnover ratio (2.75) than Embiid (1.21).
Giannis and Tatum have strong numbers as well, but they fall short in some key areas compared to Embiid and Jokic.
Team Records
76ers record: 52-27 (Embiid)
Nuggets record: 52-27 (Jokic)
Bucks record: 57-22 (Giannis)
Celtics record: 54-25 (Tatum)
The team records for the 76ers and Nuggets are identical (52-27) with Embiid and Jokic, while the Bucks have a better record (57-22) with Giannis.
The Celtics have a record of 54-25 with Tatum.
Team performance without each player shows the Nuggets struggle the most without Jokic (4-7), while the 76ers manage relatively well without Embiid (9-5).
Narrative & Media
Embiid has been gaining momentum in the media, with some experts and fellow players claiming he deserves the MVP award.
The narrative around Embiid may play a significant role in the final decision, as media and public opinion can influence voters.
Strength of Schedule
Based on strength of schedule rankings, the 76ers have had the toughest schedule, followed by Boston, Milwaukee, and Denver.
This factor could potentially work in Embiid's favor.
Head-to-Head Matchups
In a head-to-head matchup between Embiid and Jokic on January 28, 2023, Embiid outperformed Jokic, scoring 47 points and grabbing 18 rebounds compared to Jokic's 24 points and 8 rebounds.
This performance could influence voters' perception of the two players' abilities in direct competition.
Drew's MVP prediction: Embiid
I don't watch much NBA regular season, but will occasionally watch if a solid matchup is on and there isn't anything more interesting on TV.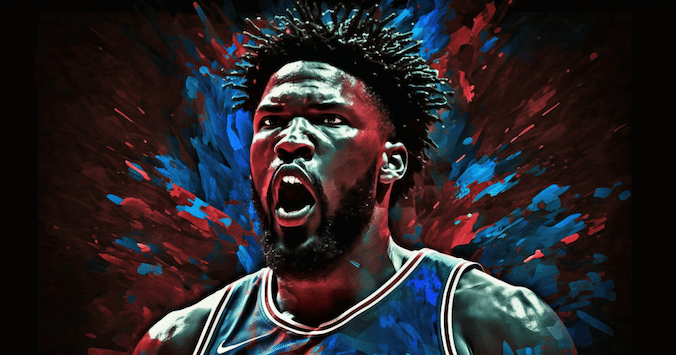 I occasionally will listen to prognosticators like Stephen A. Smith, Skip Bayless, J.J. Reddick, et al. – rant about who they think is playing the best, etc. but that's about it… I'm a "casual."
I also made my prediction prior to using GPT-4 to analyze whatever variables it wanted.
I should also note that I enjoy watching Joel Embiid more than Nikola Jokic… maybe because I watch the 76ers more frequently, but I don't believe that this should influence how I'd vote for MVP.
Making my prediction for MVP, I considered…
Media sentiment: Many in the media believe Embiid was slighted the past couple seasons and should've won already… this will likely influence voting. Some are furious he hasn't yet won & feel he is owed this year's MVP. Many players feel the same way (Steph, Draymond, Dame, etc.) – which reinforces media sentiment.
Recent MVP (?): I suspect it's harder to win an MVP if you won the prior season. Jokic & Giannis won back-to-back, but the degree of difficulty was higher for the second win. Many voters crave new blood. Jokic winning the past 2 MVPs works against him (perhaps if Embiid won the past 2 MVPs Jokic would be the favorite?)
Statistics: Embiid & Jokic had statistically elite seasons. Jokic has better offensive balance (PPG, APG, RPG) than Embiid, but Embiid has the highest PPG and is close to Jokic in rebounds. Jokic beats Embiid in both offensive rating & defensive rating.
Advanced stats: I looked at a few advanced statistics for good measure including: PER, VA, EWA, USG, TS%, MPG, OFFRTG, DEFRTG, etc. – and it was somewhat of a wash with a slight edge to Jokic. Embiid wins in RPM at 10.68 vs. 7.70 for Jokic.
Games played: Embiid played 65 games vs. Jokic played 68 games. 76ers were 9-5 without Embiid and Nuggets were 4-7 without Jokic. This is basically a draw – but records indicate that Jokic may be slightly more valuable to his team (losing record without him).
Games won (%): Giannis has the highest win percentage of games played, followed by Jokic, and Embiid in last. Embiid's win percentage is 64%, Jokic's win percentage is 70.6%, and Giannis' win percentage is 74.6%.
Team record: It's a wash as of April 5, 2023 – both have the same record at this point (52-27). Multiple strength-of-schedule ranking websites suggest the 76ers had a tougher schedule than the Nuggets for the 2022-2023 season, but this is an inexact science.
Betting odds: Embiid is the favorite. Likely fueled mostly by: media/public sentiment, lack of an MVP award, and recent big games.
Clutch stats: Embiid is more "clutch" statistically than Jokic, however, this doesn't matter much to me… Why? Because if you're dominant – you don't end up in close games and don't need to be as clutch. Advantage Embiid though.
FiveThirtyEight's analysis using RAPTOR (Robust Automated Prediction of Total Rating), provides a comprehensive analysis of a player's overall contribution to their team – taking into account: offensive & defensive skills, impact on team performance, etc. (R)
It calculates a player's value by comparing performance to that of an average NBA player in the same position – and accounts for points, rebounds, assists, steals, blocks, turnovers, and more advanced metrics like player tracking data & team performance.
Jokic (RAPTOR)
20.4 WAR (Wins Above Replacement) (#1)
+15 Total RAPTOR (#1)
+10.1 Offensive RAPTOR (#1)
+4.2 Defensive RAPTOR (#3)
Embiid (RAPTOR)
12.9 WAR (Wins Above Replacement)
+8.4 Total RAPTOR (#2)
+4.4 Offensive RAPTOR (#18)
+3.9 Defensive RAPTOR (#4)
Who has the better supporting cast?
Based on FiveThirtyEight's analysis, I would argue the 76ers.
Why? The 76ers rank slightly better than the Nuggets in both: (1) forecast based on RAPTOR player ratings (#3 vs. #5) AND (2) Elo forecast (#3 vs. #5).
Considering that Jokic scores significantly higher than Embiid in every single RAPTOR metric this season – yet his team ranks poorer than Embiid's in forecasts (as of April 2023), a logical conclusion is that the 76ers have more depth.
The "Full Strength Ratings" for each team at full strength are: 1664 (76ers) & 1620 (Nuggets) – supporting the idea that the 76ers have slightly more depth.
For this reason, one could argue that Jokic had to pull more overall weight in getting his team wins than Embiid.
NBA MVP 3.0 (Straw Poll): March 30th

The latest MVP Straw Poll 3.0 (March 30, 2023) predicts that Embiid edges out Jokic to win NBA MVP with score totals of: 790 (Embiid) to 788 (Jokic). (R)
The straw poll actually has Jokic getting more first-place votes than Embiid (42 vs. 40) – but Embiid finishes with more second-place votes (45 vs. 39) to seal the MVP victory.
Giannis finishes in third-place with 612 total points (18 first votes, 15 second votes, and 64 third votes) – while Tatum finishes 4th with 292 points.
This suggests that voters are leaning towards Embiid over Jokic… and reflects my MVP prediction along with betting odds.
Other NBA players are also campaigning for Embiid to win NBA MVP, including: KD, Curry, Butler, Dame, Anthony Edwards, Haliburton, Draymond, Lavine, etc. (This shouldn't influence voting, but it may sway some voters who were on the fence – simply because it's easier to go with popular opinion… less backlash & fewer headaches.)
Who do I think deserves the NBA MVP?
Jokic. If I were given 1 out of the 100 votes for NBA MVP, my choices would be as follows: Jokic (first-place); Embiid (second-place); Giannis (third-place); Tatum (fourth-place)… and I'm not sure who in 5th – as I haven't analyzed anyone else.
From my analyses, Jokic is the most well-rounded player in general statistics, advanced statistics, offensive/defensive performance, and RAPTOR rating.
I also think that Jokic has a slightly weaker team (supporting cast) than Embiid – although strength of schedule may have been slightly easier… and he's played a few more games at this point.
Embiid edges out Jokic in points-per-game (PPG), RPM, BLKs, and minutes-per-game – but it's close.
Jokic edges out Embiid in FG%, REB, AST, and STLs – as well as a variety of other stats like PER, TS%, VA, EWA, Box Plus/Minus, LEBRON, DRIP, win shares per 100 possessions, net rating, etc.
Jokic is on track to finish the 2022-2023 NBA season with the highest average true shooting percentage in NBA history (for players who've taken at least 1,000 shots) & had a 44-game streak of scoring 10+ points on at least 50% shooting (another NBA record).
Would I like someone new to win NBA MVP? I'm indifferent here… I'd rather give it to whoever objectively had the most value to his team.
Jokic, Embiid, and Giannis have all had exceptional seasons, but objectively, Jokic seems to be the true 2022-2023 MVP – and should complete the triple crown (3rd win in a row).
That said, I don't really care who wins… and am not betting on it. If the whiny sports media gets their way – Embiid will win. If trying to be as objective as possible – Jokic wins.
Thinking similar to me…
Basketball reference MVP tracker: Uses an algorithm based on past MVP winners and believes that Jokic should win the MVP – assigning him 57.4% vs. Embiid at 15.1%.
I hate it when people say "if you actually watched the games you'd pick Embiid."
This is a really bad argument mostly because Embiid is way more fun to watch… I like watching Embiid way more than Jokic.
Fun-to-watch & entertainment factor shouldn't be the deciding factor in the MVP race.
Additionally, I am aware that statistics are not perfect – but neither is the "eye test" (which most Embiid voters use to justify their selection).
The reality is that no matter who Jokic is on the floor (no matter who he's with) they boast a higher net rating than Philly with Embiid & Milwaukee with Giannis.
Jokic also missed 4 of the last 5 games of the 2022-2023 NBA season, but he still played in more games than Embiid & Giannis AND his team finished first in the Western Conference.
Many NBA players and media analysts claim "but he's choked in the playoffs"…
Really? The MVP is a regular season award. Playoff career average: 26-6-11. Made the second round 3x and conference finals 1x by age 26 – despite not having a healthy team 2 years in a row.
And although Denver's lineup composition & rotation may have a bit of influence on some of Jokic's stats – the impact of this isn't significant enough to account for his statistical domination in most categories.
Lastly, Jokic is the only MVP candidate to not have an all-star player on his squad… none. 76ers? Harden. Bucks? Middleton & Holiday.
Israel Gutierrez on the NBA MVP (2022-2023 season)
I like this quote from Gutierrez on the NBA MVP race… seems like he and I think similarly – although I favor Embiid over Giannis a bit (he may lean Giannis for second).
"When choosing between two legitimate MVP candidates with razor-thin margins between them, you'd historically go with the player who is responsible for more of his team's points (when you combine points and assists), who rebounds better and whose team has the better record. Under those measurements, Embiid would lose the award to Giannis Antetokounmpo. So the idea that it has ever settled into a two-man race between Embiid and Jokic seems, flatly, wrong. Between the three, then, Jokic still has the best case. He has kept his team atop a deeper conference while playing in a few more games and doing so without another All-Star or former MVP at his side. Judging strictly on the results of one regular season, and ignoring any emotionally driven narratives — as a voter is supposed to do — Jokic should be the MVP." (R)
His quote sums up the 2022-2023 NBA MVP race.
I don't think Giannis has a chance (based on media rumblings)… even though he probably should (taken for granted, 2x winner, NBA champ).
Gotta throw Embiid an award because Philly hasn't done much in the playoffs and he's never won.
Tim Legler: "The MVP Race Is Over"
Tim Legler believes that Embiid's 52-point (20-25 FG, 13 REB, 6 AST) against the Celtics to win 103-101 seals the deal for MVP race – and that Embiid is a lock to win.
He claims that Embiid was furious going into the summer last season that he lost the award two seasons in a row to Jokic – and many in the media thought that Embiid should've won it.
Although this was an exceptional game for Embiid, we must remember that one brilliant performance doesn't automatically guarantee MVP… especially since Celtics were without Jaylen Brown.
That said, I think Tim Legler's position here (along with many others like Stephen A. Smith & Skip Bayless) is that Embiid deserves the MVP award no matter what simply because he lost it the past 2 seasons – and he was angry he lost it last year, many players wanted him to win, and many in the media wanted him to win.
This logic is flawed, but I don't think we are dealing with logic anymore… so I expect the voters to follow the emotion and vote Embiid the winner.
Personally I think that the MVP race is over – but that Jokic should win because he has an edge over Embiid in many metrics and has played in more total games.
What is the NBA MVP Award?
The NBA MVP Award is regarded as one of the most prestigious individual awards in professional basketball.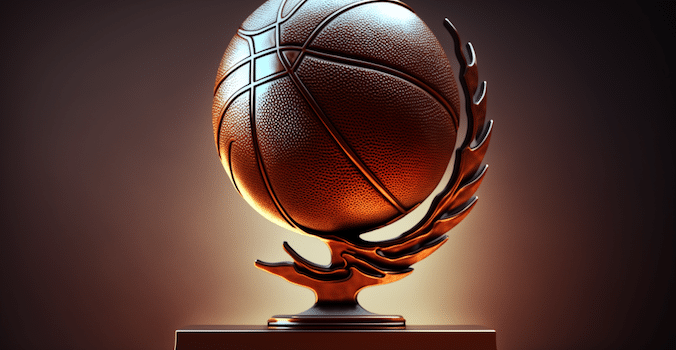 It is given annually to the player judged as being the "most valuable" to their team during the NBA regular season (it has nothing to do with playoffs/post-season).
Winning the MVP award is considered a significant achievement for any player – and is an indication of excellence and dominance in the league.
When is the NBA MVP announced?
The NBA Awards are generally announced throughout the NBA playoffs… last year the MVP award was announced May 9th.
That said, there is no official annual date for the MVP (or any other NBA award) to be announced.
In most cases, all NBA season awards are announced within a few days of each other… whenever the first award is announced, the rest follow quickly.
Who votes for the NBA MVP Award?
A panel of 100 sportswriters & broadcasters from the U.S. & Canada who specialize in covering the NBA cast votes for who they think deserves the award each year.
Each voter must select a first-place (winner), second-place, third-place, fourth-place, and fifth-place for the award.
First-place votes are awarded 10 points; second-place votes are awarded 7 points; third-place votes are worth 5 points; etc.
Max Croes (@CroesFire) has taken the time to put together a 2023 MVP & NBA Awards vote tracker.
As of April 5, 2023 – we know that Kendrick Perkins voted Giannis as his first-place MVP and Stephen A. Smith voted Embiid as his first-place MVP.
I should mention that NBA fans get a tiny amount of influence over the NBA MVP – as their cumulative vote equates to "1" ballot.
Past 5 NBA MVP Award winners (2018-2022)
Below are the NBA MVP Award winners from the past 5 seasons – along with some basic stats: FG%; PPG; RPG; APG; and BLKPG.
Jokic (2022): 58.3% FG; 27.1 PPG; 13.8 RPG; 7.9 APG; 0.9 BLKPG
Jokic (2021): 56.6% FG; 26.4 PPG; 10.8 RPG; 8.3 APG; 0.7 BLKPG
Giannis (2020): 55.3% FG; 29.5 PPG; 13.6 RPG; 5.6 APG; 1 BLKPG
Giannis (2019): 57.8% FG; 27.7 PPG; 12.5 RPG; 5.9 APG; 1.5 BLKPG
Harden (2018): 44.9% FG; 30.4 PPG; 5.4 RPG; 8.8 APG; 0.7 BLKPG
NBA MVP Odds (April 2023)
It is the final week of the NBA season (most teams have just 2-3 games remaining) – and the usual suspects dominate the MVP discussion: Joel Embiid & Nikola Jokic.
Embiid: -750 (78.1% implied probability)
Jokic: +700 (11.1% implied probability)
Giannis: +750 (10.4% implied probability)
Tatum: +20,000 (0.4% implied probability)
Preaseason odds favored Luka Doncic to win the 2022-2023 NBA MVP (+450) followed by Joel Embiid (+500), Giannis (+700), Jokic (+900), Durant (+1000), Morant (+1100), Curry (+1300), and Tatum (+1300).
Of the 3 MVP finalists – odds favored Giannis early in the season (October to December).
In January, Jokic played insanely well and became the heavy favorite – Embiid's stock also improved a bit, and Giannis' stock declined.
The race became tighter in February 2023 – but Jokic remained the favorite (-250) followed by Embiid (+450) & Giannis (+700) in a contentious battle for second.
Embiid overtook Jokic as the favorite in early March 2023, but the race became a dead lock tie near the end of March… Jokic & Embiid both had -110 odds to win MVP with Giannis at +500.
Early in April 2023, Embiid distanced himself from Jokic in the odds (Embiid -230 vs. Jokic +240) and from Giannis (+600).
The massive 52-point game from Embiid to defeat Boston 103-101 on April 4th led to a greater odds shift favoring Embiid (-750) over Jokic (+700) and Giannis (+750).
At this point, everyone knows Tatum has zero chance… and Giannis, despite having an excellent season, can't hang with the top dogs of Embiid & Jokic in 2022-2023 NBA MVP consideration.
It's basically between Embiid & Jokic – and most everyone thinks Embiid cemented his victory with his ridiculous performance against the Celts.
Who do you think deserves the NBA MVP (2022-2023)?
If you had a vote to cast for NBA MVP, how are you voting?
If you think Embiid deserves MVP over Jokic – explain why.
If you think Jokic deserves MVP over Embiid – explain why.
What about Giannis? Does he deserve consideration this season?
Who do you predict will win NBA MVP? (Regardless of your MVP preference)