Why use a hardware wallet for bitcoin & altcoin storage?
If you're working with a small investment and/or making regular crypto trades, it may be wise to keep most of your investment stored on the Coinbase platform.
That said, many crypto experts caution against storing any sizeable and/or long-term investments on Coinbase – or similar digital platforms.
Though Coinbase is extremely secure and has never been hacked, there's no guarantee that it won't get hacked in the future – potentially eliminating your entire crypto portfolio.
To protect your cryptocurrency investments, the most secure thing to do is store them on what's referred to as a "hardware wallet."
A hardware wallet allows you to essentially transfer your entire investment to a hardware attachment that can be disconnected from your computer and taken offline – making your investment impervious to a sophisticated hack – this is referred to as "cold storage."
Moreover, for even greater security, you can store your crypto on a hardware wallet and then put the hardware wallet in a vault at the bank – this is known as "deep cold storage."
The Best Hardware Wallets (2018): Bitcoin & Altcoin
Assuming you want to take cryptocurrency investing seriously and would like your investments to be as secure as possible, it is necessary to buy a hardware wallet.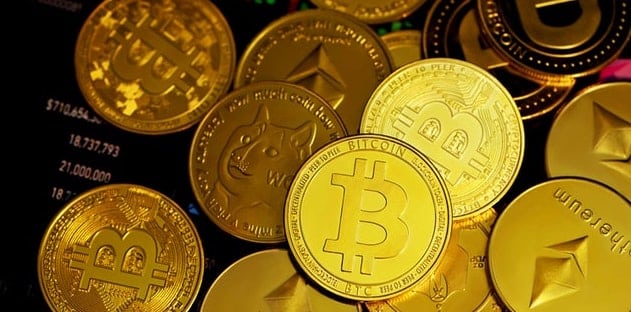 Thankfully hardware wallets are not very expensive (between $60 and $115) and are a one-time purchase.
Once you buy a hardware wallet, you won't need to continue purchasing more – a single hardware wallet can store as many bitcoin as you need.
As of early 2018, there are only 2 wallets that you should concern yourself with: the Ledger Nano S and the Trezor – all others can safely be ignored.
If you'd like to buy a wallet other than the 2 I've recommended – feel free; there are other decent wallets on the market.
That said, when considering price (value for the dollar), security, size, features, and company reputation – these are the only 2 storage devices that I currently endorse.
Affiliate disclosure: I've included affiliate links to the 2 wallets that I recommend.
The Ledger Nano S is a secure hardware wallet that can be connected to your computer via USB port.  It features an OLED display that double-checks and verifies all of your transaction with a single press of its buttons.  It was crafted around a ST31 family (Secure Element) and built atop of the BOLOS platform – a system that facilitates the operation of multiple Open Source applications in full isolation.  For most users the Ledger Nano S should be an easy device to work with.  Below is a brief synopsis of its features.
Altcoin support: The Ledger Nano S allows you to store Bitcoin, Litecoin, Ethereum, Dogecoin, Zcash, Dash, and Stratis.  Although it doesn't yet support IOTA, rumor has it that the company may integrate IOTA support at some point during 2018.
Company reputation: Customer support for the Ledger Nano S is said to be great. I haven't used it, but haven't found any major complaints.  Most cryptocurrency enthusiasts consider Ledger to be a favorable, trustworthy company in the cryptosphere.
Design: The Ledger Nano S is small enough to fit within the palm of your hand and has a sleek rectangular design. Many regard the Ledger Nano S as being the most aesthetic hardware wallet on the market.  As has been mentioned, the device contains a foldable encapsulation to protect the OLED screen and is not bulky.  Moreover, the device is controlled by 2 external buttons on its side.
Easy-to-use: Setting up the Ledger Nano S only takes a few minutes whereby you create a security PIN to protect the device from unauthorized access (e.g. a theft trying to use your device).  In addition to the security PIN, you'll receive a 24-word recovery seed that will be needed in case your device is stolen, lost, or damaged.  After you've connected the device to an official Ledger Nano S app – you shouldn't have much difficulty using it.
Ledger apps: Free official apps are provided by the developer of the Ledger Nano S that allow you to transfer bitcoin and/or other cryptocurrencies to your device.  The interfaces for the Ledger apps are very aesthetic and easy to use.  I'd say that the Ledger apps are currently better designed than those used for Trezor.  The official Ledger apps allow you to: check general account information, transfer bitcoins to/from your hardware, and generate your bitcoin address.  Furthermore, you can select from multiple languages and view exchange rates.
Security: Security for the Ledger Nano S is, by current standards, as good as it gets. The small display screen on the Ledger Nano S will reduce likelihood of security issues arising – even on an insecure computer.  In other words, because the device has its own display screen, a hacker with access to your computer will remain unable to view information on the OLED screen of your device.  Additionally, if someone tries to access your Ledger Nano S and enters an incorrect PIN several times in a row, the device will erase itself.
Recovery: In the event that Ledger Nano S were ever lost, stolen, or broken – you can simply use your 24-word seed to recover your private keys (investments) on a new device.  Even if someone flushed your Ledger Nano S down the toilet, as long as you retained your 24-word recovery seed, you'd be able to access your private key – thereby keeping your investment secure.
Wallet compatibility: The Ledger Nano S is also compatible with preexisting wallets such as: Bitgo, Copay, GreenBits, MyCellium, and MyEtherWallet. If you prefer one of the aforementioned wallets, you should have no difficulty using it with your Ledger Nano S device.
TREZOR is a highly-secure hardware wallet manufactured by Satoshi Labs.  Prior to the inception of the Ledger Nano S, Trezor was regarded as being far-and-away the best hardware wallet on the market.  Because Satoshi Labs has proven to be a reliable, trustworthy company with great customer support – Trezor remains a favorite among the bitcoin and crypto OGs.  Below is a brief synopsis of features associated with the Trezor.
Alt coins: In addition to supporting Bitcoin, Trezor users can store Ethereum, Litecoin, Dash, and Zcash.  It is likely that additional cryptocurrencies will be supported in the future.
Company reputation: Satoshi Labs, the manufacturer of Trezor, is regarded as the single most trustworthy company in the world of hardware wallets.  Though Ledger is gaining traction, Satoshi Labs has a longer-term track-record of providing excellent and secure wallets with solid customer support.
Design: Though many prefer the design of the Ledger Nano S to that of the Trezor, some may actually prefer the Trezor.  The Trezor is shorter but wider (chubbier) than the Ledger Nano S with a hexagon-ish, stopwatch-like shape that should fit easily within the palm of your hand, as well as within clothing pockets.  Similar to the Ledger, the Trezor features 2 buttons to operate the device.  That said, I think I prefer the placement of the buttons on the Trezor due to the fact that they are directly under its display screen and are less prone to an accidental "push."
Easy-to-use: Though the Trezor may not be quite as easy as the Ledger Nano S to use, it's still relatively easy to figure out. You're required to set-up a security PIN for your device, then create a 24-word recovery seed.  Simply follow instructions that come with your device and link it with your Trezor wallet to send/receive bitcoins and/or other cryptocurrencies.  When you're finished transferring your cryptos, disconnect the device from your computer, store it safe, never forget the recovery seed, and you're all set.
Recovery: Should you ever lose your Trezor via negligence or theft, or find that your Trezor is damaged – you can still recover your private key (investment) with a 24-word recovery seed. Recovery of the private key means that you'll never lose your investment or transaction history – no matter what happens to your device.  To recover a private key, you simply purchase a new Trezor, enter your recovery seed – and you'll have access to your investments.
Security: Security for the Trezor wallet is the best in the game – equivalent to that of the Ledger Nano S. You'll be required to enter a security PIN to access the Trezor.  If you enter the PIN incorrectly, you'll have to either wait an extended duration of time or the device will wipe itself clean.  It is said that after 16 incorrect PIN entries, the Trezor erases itself – for the sake of security.  Similar to the Ledger, the Trezor requires an encryption passphrase to be used over the PIN.  Furthermore, because the Trezor has its own display screen, malware/hackers will be unable to view its display screen even if he/she can view the computer display.  Finally, Trezor is able to prevent keyloggers from recording your PIN – even if entered via an insecure computer.
Trezor wallet (app): You can download the official Trezor wallet app or a free browser extension that allows you to transfer your cryptocurrencies to your Trezor hardware wallet. The interface for the Trezor wallet app isn't anything too complicated.  If you're confused about how to use it, search for a tutorial on YouTube – there are plenty.
Ledger Nano S vs. Trezor: Which is the better hardware wallet?
Neither is really "better" – it all comes down to personal preference.  Because the price of the Ledger Nano S is lower than that of the Trezor, it's what I'd personally recommend in a head-to-head cage match.  While Trezor has maintained a great reputation over a long-term, many would argue that the Ledger Nano S is easier to use and has a sleeker design.  Perhaps as the popularity of various cryptocurrencies increases we'll start to see new, improved, and/or cheaper hardware wallets hit the market.  Nevertheless, if you want a cryptocurrency wallet, you can't go wrong with the Ledger Nano S or the Trezor – both are solid.
Are there other hardware wallets?
Yes (this was already mentioned).  There are many other hardware wallets on the market.  Many are overpriced, oversized, have limited security options, have limited storage options, and/or are developed by companies with an unknown or questionable reputation.  If you're dead-set on buying a wallet other than the 2 mentioned above – go for it, no one's trying to stop you.  That said, most other wallets are not as good as the Ledger Nano S and Trezor.  For those who don't want to overthink it – buy either the Ledger Nano S or Trezor – and be done.
Who should use hardware wallets?
Hardware wallets are most recommended for persons who plan on making sizeable investments into bitcoin, ethereum, or another cryptocurrency – and for those who plan on holding (HODL'ing) their coins for an extended duration.
Anyone making sizable investments: Anyone investing large sums of money in bitcoin and/or other cryptocurrencies should use a hardware wallet for the sake of security. Storing $1M worth of bitcoin and ethereum on Coinbase might be fine for now, but all it takes is a single major hack to wipe out your stash.  Most educated large-scale crypto investors are using a hardware wallet, some of which are kept in "deep cold storage" (offline and in a safety deposit box at the bank).  As a general rule of thumb, I recommend using a hardware wallet for any investment exceeding $1,000 USD.
Long-term investors: Those that like to buy and hold (HODL) bitcoin and/or other cryptos should keep the coins as safe as possible.  As of current, the safest possible storage method is via hardware wallets.  If you buy $5K worth of bitcoin and its value quadruples, you probably won't want that investment sitting on an exchange riddled with security issues.
Crypto enthusiasts: If you thoroughly enjoy everything crypto, it makes sense that you'd want to have the best storage for your coins.  Those who plan on staying involved in crypto over the long-term will want to purchase the most secure storage device for their bitcoin.  (Plus, you don't want to look like a total n00b).
Who shouldn't use hardware wallets?
Not everyone investing in bitcoin and cryptocurrencies needs to use a hardware wallet.  I don't want to scare you into buying a hardware wallet that you don't really need.  If you plan on making a short-term investment, a small-scale investment, and/or aren't very tech savvy – it may be best to steer clear from hardware wallets.  (Then again, you could always flag down some nerd that you trust to help you "set the damn thing up!").
Short-term investors: If you plan on investing in bitcoin for the short-term, you may not want to use a hardware wallet. While a hardware wallet is recommended for a large-scale investment (thousands, hundreds of thousands, millions – of dollars) – even if short-term – many short-term investors may put their faith in Coinbase to keep their investments secure for a limited duration.  Moreover, a small or moderate investment over the short-term probably doesn't justify purchasing a hardware wallet for added security.
Small-scale investors: Anyone investing "hundreds of dollars" into bitcoin doesn't really need a hardware wallet. The price of a good hardware wallet is usually around $100 per device.  If you invested $500 into bitcoin via Coinbase, you probably won't need to worry about losing your tiny investment in a hack.  Additionally, even if you ended up losing your $500 investment, it shouldn't be a major setback.
Simpletons: If you want to keep things as simple as possible and aren't concerned with potential security breaches at major exchanges (e.g. Coinbase), you may want to avoid hardware wallets altogether.  They are somewhat complex and may be nothing but a stressful headache for non-tech-savvy persons.  You don't run the risk of doing something stupid and/or losing your bitcoin on your hardware wallet if you never buy one.
Risks of Hardware Wallets for Crypto Storage
As of 2018, there have been no legitimate reports in which bitcoins and/or other alt coins were stolen from hardware wallets.  Many people have been hacked out of their coins stored on digital platforms and software – this has yet to happen with storage on a hardware wallet.  That said, hardware wallets remain somewhat new and it's possible that future problems will arise with this method of "cold storage."  Included below is a list of potential risks associated with using hardware wallets – be cognizant of these risks if you purchase one.
Bugging: While bugging a hardware wallet isn't as easy as bugging the helicopter on "Frigate" in Goldeneye 007, it could happen. No reports of hardware wallets being "bugged" have surfaced, but I'm willing to be that it'll eventually happen when some punk gets ahold of these wallets.  Unless you take your hardware wallet apart and look for the modification, you may unknowingly think that it's perfectly safe.  The problem is that any modification made by a third-party vendor and/or criminal (while the device is being shipped) could lead to theft of all your cryptocurrencies.
Damage: The durability of any hardware wallet will be contingent upon the specific wallet that you purchase.  Some wallets are likely more durable and resistant to damage than others.  Obviously you don't want to drop your hardware wallet in a swimming pool to test its water resistance or come home to find your kid using your hardware wallet for batting practice.  Additionally, you wouldn't want your psychotic ex-wife stealing your hardware wallet and throwing it in a bonfire – letting it sizzle while she roasts marshmallows for a crispy crypto flavor.  In addition to damage from things like physical abuse, water, and fire – hardware wallets can end up damaged from electricity and certain magnets.
Malfunctioning: Certain hardware wallets could malfunction due to poor or faulty engineering. What's more, some of the devices that malfunction may have zero recovery capabilities.  If your hardware wallet were to malfunction, you may lose all of your crypto savings in the blink of an eye.  (Thankfully the brands I've recommended have recovery capabilities so you won't need to really worry, but if you're using some random hardware wallet – consider yourself warned).
Malware: While hardware wallets are the safest way to store bitcoin and/or other cryptos, they won't protect you from sending your bitcoin to the wrong address.  This should be relatively obvious to most.  If you have malware on your computer and plug your hardware wallet into your computer to transfer your coins, the malware on your hard drive may swap out an intended recipient's bitcoin address and replace it with the attacker's address – causing you to lose all of your coins to a hacker.
Random Number Generators (RNG): Current security for hardware wallets is provided by a random number generator.  The random number generator is embedded within the hardware wallet and intended to securely generate private keys for your wallet.  That said, many question whether the randomness associated with the random number generator is truly random.  If the random number generator is not truly random and/or insecure, wallet keys could be created by an elite hacker whereby your cryptocurrencies are stolen.
Vulnerabilities: Certain hardware wallets may contain software, firmware, and/or hardware bugs. If there are any bugs within software, firmware, or hardware – this compromises the quality of the product and overall security.  Though there are some high-quality wallets on the market, experts suggest that the hardware and software security is likely suboptimal.
Hardware Wallet Recommendations
I've compiled a list of recommendations for using a hardware wallet to store bitcoin and other cryptocurrencies.  While you may be perfectly secure even if you don't follow these recommendations, if you want to maximize your security, I recommend at least glossing over this list before buying, using, and setting up your hardware wallet.
Buy a high-quality device: If you're going to use a hardware wallet to store crypto, you better get the best. In other words, only purchase a hardware wallet from a company with a trustworthy reputation for high security standards.  As I've mentioned, both the Ledger Nano S and the Trezor fit the billing here.
Direct purchase: When buying a hardware wallet, it is not recommended to purchase from third-party vendors. Although hardware wallets sold by third-party vendors are likely safe and devoid of issues, purchasing directly from the manufacturer eliminates potential for a third-party to bug/modify your device.  If you live in the United States and want to buy your wallet through Amazon, ensure that the seller of the wallet is the actual manufacturer – not a third-party.
Expedited shipping: Another way to reduce the odds of your wallet getting bugged is to expedite the shipping. While it is very unlikely that your wallet will be tampered with during the shipping process – it could happen.  If you order next-day or 2-day shipping, it's less likely that someone will have adequate time to tamper with the hardware wallet during the shipping process.  If you get standard 3-5 day shipping, this would increase likelihood of a tamper during the ship – this longer duration gives the handler extra time.
Computer safety: Before you even consider connecting a hardware wallet to a computer, it is necessary to confirm that your computer is safe and secure.  This means you'll want to verify that malware and viruses are not present on your hard drive.  Also ensure that your computer's software is fully updated with no major security flaws.  Only use a personal computer that's connected securely to the internet with your hardware wallet.
Check wallet for bugs: If you want to take extra precaution and/or are concerned about a potential bugging of your device, there are tutorials available online that will help you evaluate whether your device was bugged.  You may need to carefully disassemble your device and search for modifications.  If a modification is found, it is recommended to get a new device altogether – rather than try and fix a modified one.
Install updates: Assuming your wallet is not bugged and connected to a safe and secure computer, you'll want to search for firmware/software updates.  If there are any necessary updates, you should download and install them – as these will improve the security and/or usability of your device.
Learn the ropes: If you're unsure about how to properly use your hardware wallet, contact the manufacturer.  If the manufacturer is unhelpful, you can probably find a thorough tutorial online.  When you understand how to use your hardware wallet, you can transfer your cryptocurrency investments to the wallet and take the wallet offline.
Data recovery: Ensure that you know how to recover your investments in the event that your wallet was lost, stolen, or damaged.  For detailed information about data recovery, contact the manufacturer of your wallet.
Storage: Once you've successfully transferred your cryptocurrency investment to your wallet, you may want to store the wallet in a safe – or even within vault at your bank.  Obviously if you've got an investment worth hundreds of thousands or millions, it may be wise to keep your hardware wallet at the bank until you want to sell your coins.
Bottom line: If you're a serious bitcoin investor – get a hardware wallet
Most people know that no matter the security level of an altcoin or bitcoin-storage website, the website is not immune to a hack.  A hardware wallet will protect your cryptocurrency investments by taking them offline in "cold storage" mode.  Unless you met a hacker on the street and gave him/her your hardware wallet plus the necessary information needed to authenticate your account – it would be impossible for the person to steal your investment (i.e. extract it from the blockchain).
On the other hand, if a major Coinbase hack occurs, your entire investment may get wiped out – leaving you furious that you never purchased a hardware wallet to store your coins.  For permanently enhanced storage security, you only pay $60-$115 for a hardware wallet… overall this is a ridiculously great deal.  If you're playing around with a tiny crypto investment (e.g. $100-$500) – you probably don't need a hardware wallet.  Anything above $500 justifies purchasing and regularly using a hardware wallet.